Hato Caves
Franklin D. Rooseveltweg Willemstad Curaçao
Deep within the cliffs of low limestones escrapent lays the Hato Caves, on the north coast of Curaçao. this cave is located only 4 minutes driving or 12 minutes walking from Curaçao international airport.
The caves consist of marine coral limestone which was formed millions of years ago and were exposed to atmospheric corrosion after the sea level dropped.
Over the years the caves provided shelter for some early island inhibitors (the Caiquetio Indians) and slaves who escaped from their masters. Since 1991 the Hato Cave was officially open to the public after undergoing an intensive upgrading by the Government of Curaçao to make it accessible by foot.
Opening hours and entrance fees:
The Curaçao Hato Caves is open daily from 9:00 to 16:00, offering a guided tour every hour, on the hour. The tour is given in English, Dutch, Spanish and Papiamento. German and Portuguese are available only by reservation.
Ages 4-12: Ang. 12,25 or USD 7
Ages 13-up: Ang. 15,75 or USD 9
During the local holidays they offer discounted rates for locals with ID (sedula)
Special group rates are available upon request!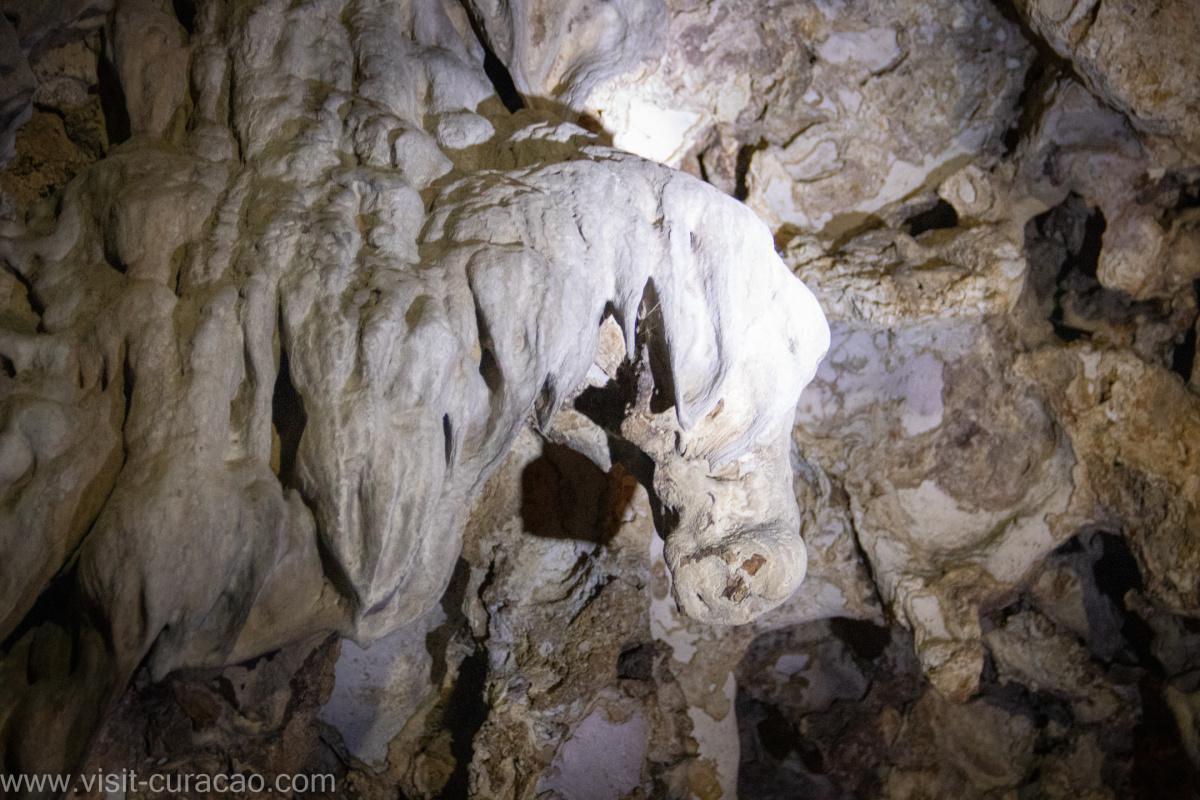 Bus Route
From bus stop Otrobanda to The Hato Caves
Click here for the bus departure time tables, from Otrobanda and Punda
Bus 4B Otrobanda- Hato (from Otrobanda)
Rodeweg - Jan Erasmusstraat
Roodeweg - Piscaderaweg
Weg naar Welgelegen - Charoweg
Weg naar Welgelegen - Kaya Aura Winkel
Weg naar Welgelegen - Soeur Geradaweg
Schottegatweg West - Amazoneweg
Schottegatweg West - Paranaweg
Schottegatweg West - Weg naar Westpunt
Palu Blanku
F.D. Rooseveltweg - Mirla Plateweg
Gibraltar
F.D. Rooseveltweg - Blanquilaweg
F.D. Rooseveltweg - Cubaweg
F.D. Rooseveltweg - Wiston Churchillweg
F.D. Rooseveltweg - Salsbachweg
F.D. Rooseveltweg - Micaweg
F.D. Rooseveltweg - Mahumaweg
F.D. Rooseveltweg - Seru Fortunaweg
Hato Caves
Duration:
The bus ride is 22 minutes to the bus stop Hato Caves, from there you have to walk 1 minute to the Hato Caves