Beth Haim Jewish Cemetery
Willemstad Roosendaal Curaçao
The cemetery Beth Haim was constructed In 1659, with the arrival of the second group of Jewish settlers. The oldest tombstone dates from 1668 and is not only the oldest Jewish cemetery on Curaçao but is the oldest in the Western Hemisphere. The cemetery was consecrated in 1659. The oldest tombstone dates from 1668.
The cemetery contains 2500 graves; the tombstones of many of these have been adorned with beautiful sculpture representing biblical passages, often relating to the name of the deceased. The most common designs are depictions of biblical scenes related to the name of the deceased.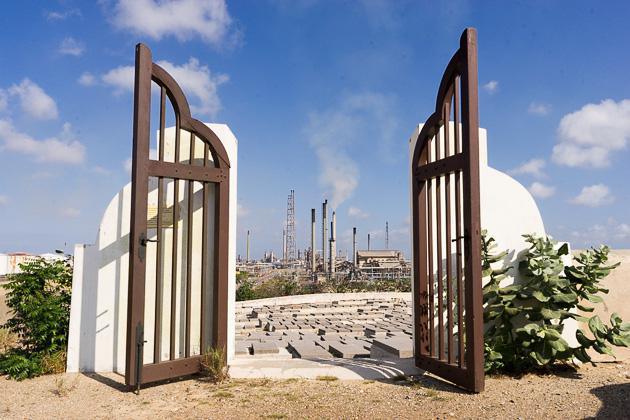 Unfortunately the oil refinery which was build nearby has deteriorated many of the old stones. The last burials held in this cemetery were in the 1950s.
Amongst the anonymous graves some famous Jews are buried; Ribca Spinoza, half-sister of Baruch Spinoza, died on January 25, 1695. Jahacob Alvares Carrea, an assistant of Malag-born Eliau Lopez, the Chief Rabbi of Curaçao in 1693, died on June 25, 1714.
The antiquity, art and historical heritage make the cemetery at Blenheim an extraordinary international monument.
Opening hours and entrance fees:
The cementary is open from Sunday to Friday from 8:00 to 18:00
The cemetery is closed on (Shabbat) Saturday's
The cementery is free to visit
For a guided tour please contact the office at 0059997376843 to make your reservation.
Bus route
From bus stop in Otrobanda to Beth Haim
Click here for the bus departure time tables, from Otrobanda and Punda
Bus 1B Schottegat or 4C muizenberg (from Otrobanda)
Rodeweg - Jan Erasmusstraat
Weg naar Welgelegen - Charoweg
Weg naar Welgelegen - Kaya Aura Winkel
Weg naar Welgelegen - Soeur Geradaweg
Schottegatweg West - Amazoneweg
Schottegatweg West - Paranaweg
Schottegatweg West - Weg naar Westpunt
Palu Blanku
Elux Technologies
Home Depot
Duration:
The bus ride is 16 minutes to bus stop ''Home Depot'', from there you have to walk a proximally 8 minutes to the cementary.